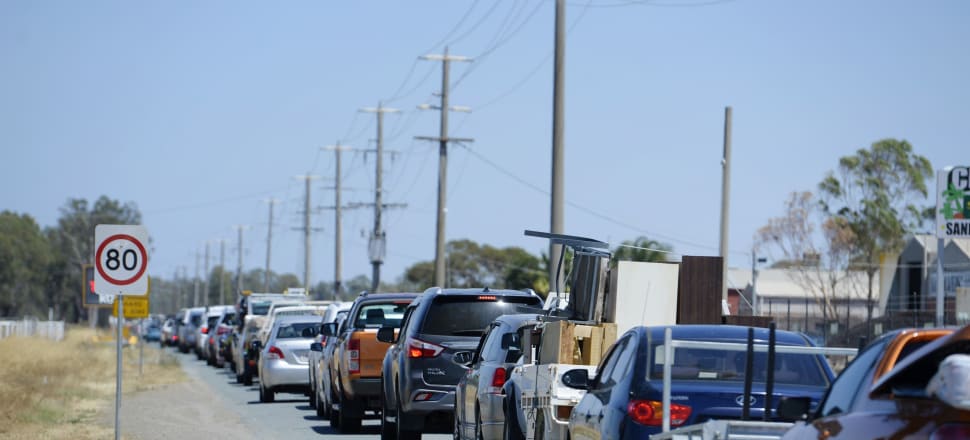 5370537724001
Waived rubbish dumping fees at Greater Shepparton City Council tips have been welcomed by ratepayers — but have angered many due to wait times.
On Saturday, the wait to dump rubbish for free at Shepparton's tip was anywhere between 45 minutes to two hours as people took the rare opportunity to dump rubbish for free.
Some claimed on The News' Facebook page the wait was so long they couldn't get in.
In an attempt to ease the demand council used traffic wardens along Wanganui Rd to control the rush.
The Murchison tip also waived fees on the weekend.
City of Greater Shepparton councillor Dennis Patterson said the council would seek more clarity on what was dumped before it could announce any additional (or potential) waived tip fee days.
"There's a lot we have to consider and that includes the total cost to the ratepayer — because someone still (has) to pay for it.
"I know the lines went right back to the Numurkah Rd. Council needs to know if people used the days to dump cans and bottles, which they can already dump for free, or if it was hard rubbish.
"So, it's about getting the information for the type of rubbish. I'll also be curious to see the results from this week's kerbside collection as that would probably be impacted as well."
The Shepparton tip was possibly impacted by the Ardmona tip's waived fee day being postponed, announced last week.
Cr Patterson said he believed 30 per cent of the customers using the facility on Saturday were from the west side of the Goulburn River.
He expected the Ardmona closure to have impacted the Murchison tip yesterday.
"We obviously don't want the type of lines we had on Saturday," Cr Patterson said.
He said he doesn't expect waived fees to have a major impact on people dumping rubbish along the Goulburn River.
"It would be very small in my estimate. But what's dumped near the river is usually fridges and washing machines, and people can take those for free.
"The people who dump along the river don't care anyway."
There are still two more days of waived tip fees at the Shepparton and Murchison tips; on January 25 and January 26 respectively.
For more information on conditions of entry visit the Greater Shepparton City Council website or phone the council on 5832 9700.
Council is yet to announce the replacement days for waived fees at the Ardmona tip.
More on rubbish dumping in Shepparton
Shepparton residents have their say about the hard rubbish trial
Hard rubbish trial coming - but not to your front door