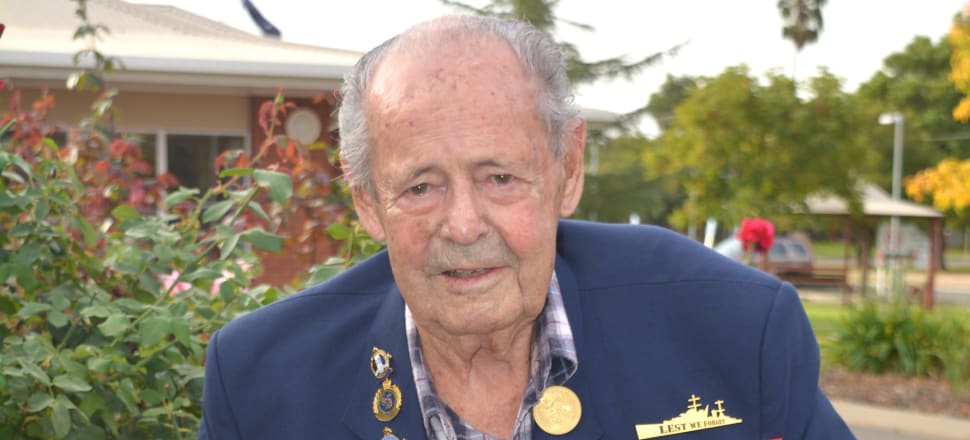 5370537724001
Berrigan's second last surviving World War II veteran has been farewelled by the community.
Ken James Brown, 98, died last week.
He will be remembered for a lifetime of serving his country, his community and his family.
Mr Brown was a member of the Australian Navy and was aboard the HMAS Nestor when it was sunk during World War II.

He also helped in recovery of bodies of Englishmen after an airstrike decimated a part of their town during the war.

Mr Brown lived in the local area for more than 20 years — 22 years in Barooga before relocating to Berrigan more than two years ago.

He was a member of the Berrigan RSL Sub-branch.

The Amaroo Aged Care resident had four children - Sandra Paganoni and Rodney, Kenneth and Keith Brown.
Rodney said while their father is best know for his war service, and then his service to the Returned Service Leagues, he was so much more.
"He was a very caring and generous man," Rodney said.
"There was nothing he wouldn't do for his family. He was a man's man for the navy, but we didn't miss out on much as his children.
"Our dad was a hard worker and looked after us all the way through."

Having spent a little over 35 years in the Australian Navy, Mr Brown always had an impressive collection of military medals lining his jacket.

He first joined the Navy as a 16 year-old ordinary seaman second class on March 22, 1938.
He was stationed on Sydney II — which eventually sunk in 1941, but luckily without Mr Brown on board.

He was then sent to England to commission HMAS Perth.

He was on board the light cruiser at the outbreak of World War II, when the ship was travelling between New York and Jamaica.

He stayed on HMAS Perth until it arrived in Australia in May 1940, and Ken then became one of the first to join the RSL in Frankston.

It was not long before he was posted back to England to help his fellow Allied seamen, on the HMAS Nestor.

He arrived in the south England coastal town of Portsmouth on January 10, 1941.

On June 16, 1942 the HMAS Nestor sunk in the Mediterranean Sea.

It was hit by three Italian bomber planes while travelling between Alexandria and Malta.
The ship eventually sank near Crete, Greece.

Mr Brown was onboard as an anti-aircraft gunner at the time.

Despite the difficulties of his escape, Mr Brown survived the ordeal and was offered a month's respite leave but this proved to be short-lived.

He was recalled almost immediately to coxswain of the HMAS Lolita.

He was then appointed to the heavy cruiser Shropshire when it was stationed in the Philippines in 1943.

Mr Brown found the inspiration to join the Navy while working with a real estate agent in Frankston.

He left school at the age of 13. He originally started working at the age of nine, partly because his father had died four years earlier, selling newspapers.

World War II was his only wartime posting, staying on home soil during Korea and Vietnam.

During the Vietnam War, Mr Brown was a representative in Sydney for the US Navy.

Any US Navy personnel who entered Australia on leave from Vietnam were under Mr Brown's control.

For this he received recognition from US Admiral John Hyland in 1970.

He was also made a life member of HMAS Sydney several years ago.

Mr Brown also spent 40 years as a Justice of the Peace for Victoria and NSW.

His funeral was held on Monday in Berrigan, with family making the trip from Queensland and around NSW.