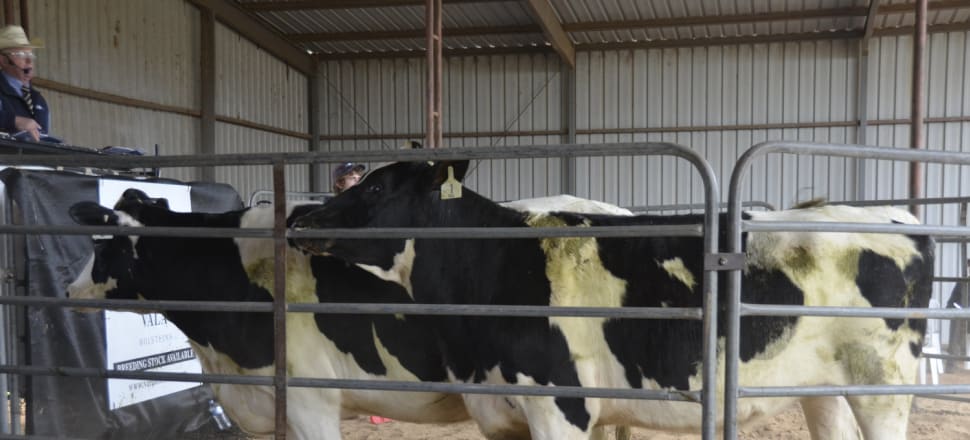 5370537724001
Toolamba's Vala Holsteins held an on-property auction last week, with cows selling for an average of $3082.
The two highest priced lots sold for $8000 to western Victoria's Emu Banks Holsteins.
Lot one, Vala Bandares Sheena, and lot 46, Vala Polar Ladyluck, were purchased via phone bidding.
Vala Holsteins manager Angela Varcoe said she was happy with the outcome of the sale.
"We had high BPI heifers, high TPI, sisters to leading AI bulls within the industry, really deep pedigree cows with some good production behind them," she said.
"It was nice to be able to see our genetics and traits making some good money.
"It was a really nice day, to be able to see some friendly faces around, and nice to see there's still some positivity in the industry — we're very excited to see what the heifers can do for the buyers in future."
Dairy Livestock Services auctioneer Brian Leslie said the cattle spoke for themselves at the sale on Thursday, May 28.
"An enormous amount of money has been spent importing embryos from North America, primarily Canada, out of some of the highest profile cow families in the world," Mr Leslie said.
"The whole offering was bred down North America imported lines, and they're relatively out-cross, with a lot of them bred for the poll gene — so they offer a fairly unique package."
Mr Leslie said there was strong bidding on AuctionsPlus for those who could not attend the sale, with about 50 registered bidders logged on, and even more viewers.
"We had cattle go all over Victoria, and up as far as the Taree area of NSW, quite a lot in Gippsland, as well as western and northern Victoria."
Mrs Varcoe said it was difficult to navigate COVID-19, and that she did everything she could to reach as many people as possible through AuctionsPlus.
"Our genetics can go a lot of places but not a lot of people can come here, so with those extra tools, we can broaden our market," she said.